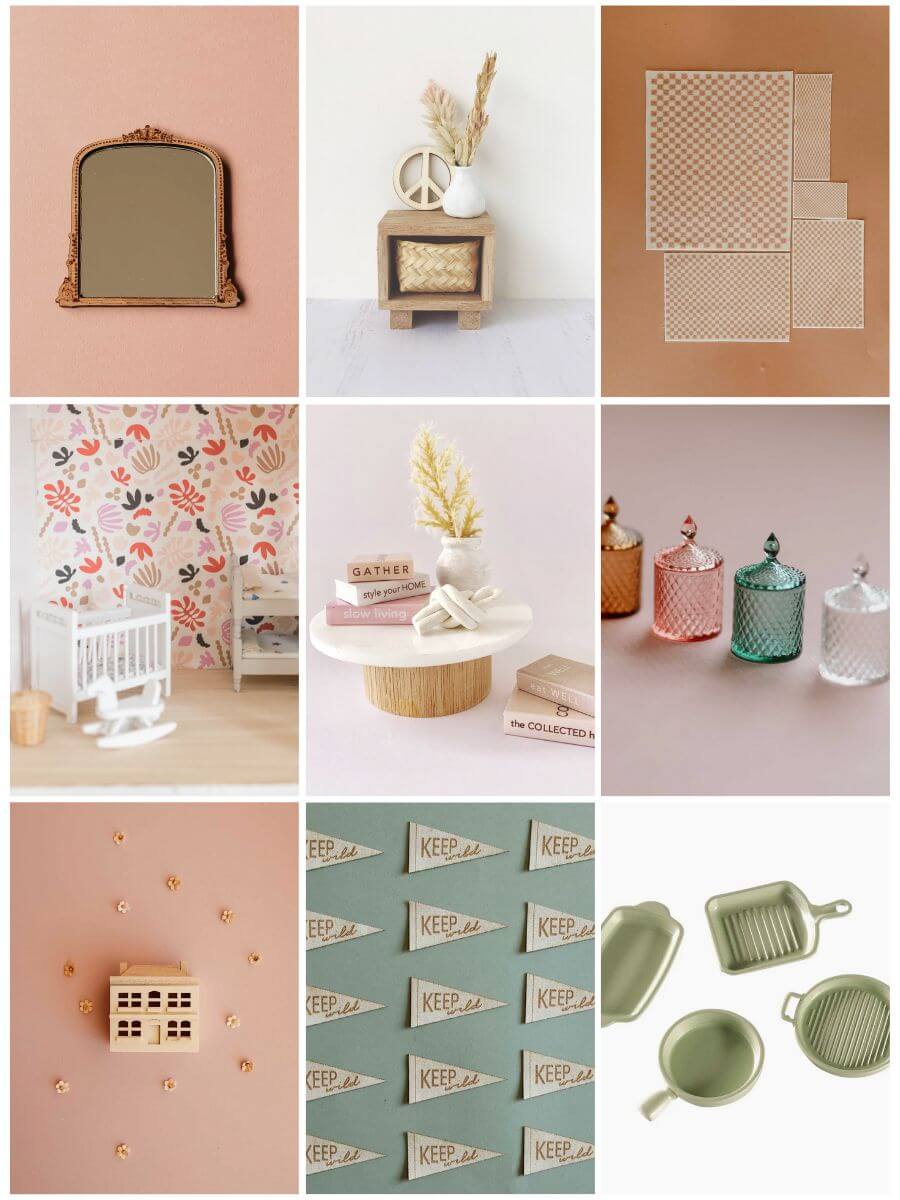 Where to Find Fun and Stylish 1:12 Dollhouse Furniture for Little Interior Designers
Decorating a dollhouse can be an exciting way for kids (and you) to flex their creative muscles. From choosing the perfect furniture and accessories, to deciding how to plan each room -  there are endless possibilities for the magical spaces they can create. And let's be honest, dollhouses are just as fun for adults as they are for kids! Helping them design their dollhouse is a fun and collaborative activity you can do together.
We love mixing and matching pieces from well-known retailers, unique custom options on Etsy, and even experimenting with our own DIY additions. In this blog post, we'll highlight all our favorite places for stylish and modern 1:12 dollhouse furniture items. Whether you're looking for play-ready sets, unique accent pieces, or special accessories, we've got you covered.
In case you're unfamiliar with scale, 1:12 is the most common dollhouse scale. The 1:12 ratio represents the approximate ratio of the item's size compared to it's full-size counterpart. So, something that is actually 1 foot tall (or 12 inches) would be created as a 1-inch tall (1/12) miniature. Most dollhouses and accessories manufactured in the US are 1:12 scale. The second most common scale is 1:6 scale, which is used for taller "fashion" dolls like Barbies.
Now, let's get to the fun stuff!
Ellie & Becks Edie Rattan Dollhouse, $229
Dollhouse Furniture Sets
If you're looking for unique 1:12 dollhouse furniture options but don't want to handpick every piece, purchasing dollhouse furniture sets is a great option. Sets are usually sold by room, so you'll have the benefit of a nicely curated room while still being able to customize with different styles for other rooms.
These 1:12 dollhouse room sets are modern and playful. The Crate & Kids Greenhouse Set is a perfect dollhouse add-on if you want an outdoor area. And who can resist little wooden llamas? Switch out a traditional room option for a home classroom with these schoolhouse options from Pottery Barn Kids and ByAstrup. We love the colorful Living Room Set from Tender Leaf Toys, that also comes with lots of fun accessories like a lamp, tv stand, and styled bookshelf. If you're looking to have more rooms filled, this Starter Furniture Dollhouse Set from Le Toy Van is perfect. It has a few pieces of furniture for every room. Each piece is stylish and versatile - perfect for customizing with additional accent pieces. We're in love with the simplicity of this Milton & Goose Living Room Set and wish it came in full size.
Dollhouse Accent Pieces
Everyone loves a good statement piece, and they're even more fun when they're miniature. Here's some of our favorite dollhouse accent furniture - add a few items to liven up your pre-existing sets, or mix and match for a more eclectic look.
These 1:12 accent pieces are every dollhouse decorator's dream. With all of the intricate detailing, these statement pieces really make your dollhouse feel unique. All of our picks are curated from Etsy makers, so they really are one of a kind! Keep in mind when purchasing individual or handmade items, the materials will vary. The most common materials used for handmade furniture are natural wood, balsa wood, or biodegradable plastic (3d printed items). 3d printed items are the most detailed, but very lightweight and may not have as much tactile appeal for kids who enjoy sensory toys.
Even items listed as 1:12 scale will often vary. So make sure you read the listing but also look at comparison photos to make sure they're compatible with the dollhouse furniture you're planning to pair with it. If you're dipping a toe in the Maileg world (their mice and miniature furniture are must-haves for dollhouse play), be aware that their sizing is listed as 1:12, but individual items are all over the board. Slightly mismatched sizing doesn't matter to kids though, and will probably add more fun to their pretend play.
Dollhouse Accessories
Now for the really I-can't-believe-how-small-and-cute-this-is stuff: dollhouse accessories to finish your design. From miniature plants to cookware, these even tinier add-ons give dollhouses that final touch of magic. The house comes to life and it's easy to imagine a family of mice arranging a tiny vase of flowers or on a couch reading magazines. If you're anything like us you may find the tiny sizes and pricing irresistible. Careful or you may end up like Ariel with a treasure trove of unused decor. 
*Note: if your children are under 3, it's best to steer clear of small accessories until they're older, as many can be choking hazards.
Rattan Dollhouse Inspiration
The dollhouse furniture we shared are just the tip of the iceberg. Once you start looking you'll find yourself in a rabbit hole of options. 
We designed our Edie Dollhouse as a blank canvas for all those options, so you can make it your own. Creativity knows no bounds, and mixing and matching different furniture sets can result in a truly personalized and stylish dollhouse. Encourage your child to experiment with colors, patterns, and textures to create a space that reflects their unique taste and style.
Check out the inspiring ways our customers styled the Edie Dollhouse below!
Instagram @amandaescoe
Instagram @amandaescoe
Instagram @for.mymini
So, let the decorating adventure begin! And stay tuned for more dollhouse inspo posts very soon.
Don't forget to share your creations with us, we love getting inspired!